Wood floors and floor heating: it's possible!
There are few better feelings than coming home after a long day and being greeted by the comfort of a heated floor. While many people feel they may need to sacrifice this luxury if they want their home to have wooden floors, this is merely a misconception. There are many types of wooden floors that can be installed on top of heating systems, for example our Solidfloor Heat programme.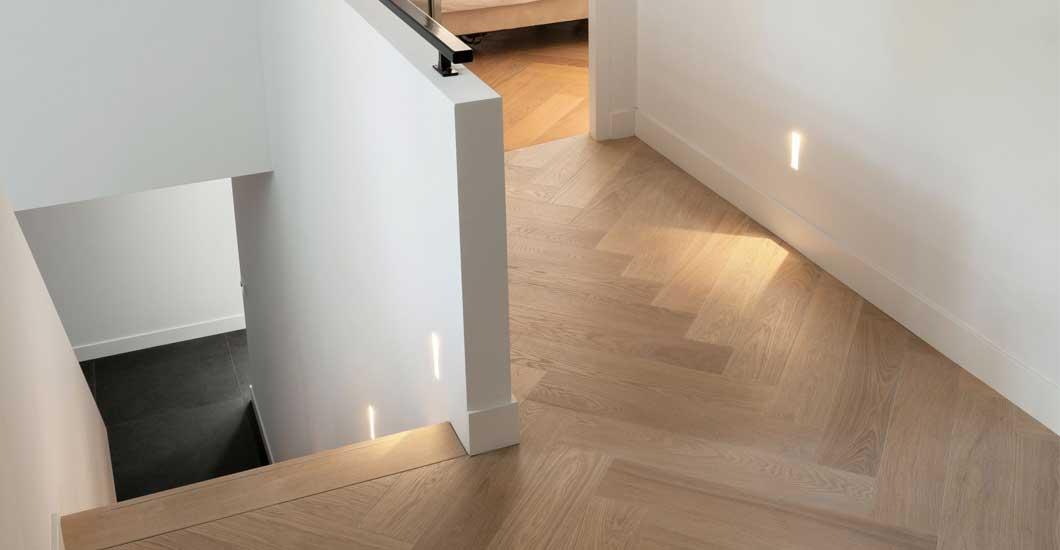 What types of underfloor heating exist?
There are two main kinds of under floor heating: hydronic and electrical. Hydronic, or traditional floor heating, is more suitable for wooden floors than electrical floor heating.
Why is hydronic heating better for my wooden floor?
Hydronic heating is achieved through installing a system of water pumps under a floor which heat the ground above once a boiler is ignited. This method of floor heating is more suitable for wooden floors than electrical floor heating as it takes time for the water in the pumps to heat up. Electrical heating, on the other hand, has a sudden heat build-up which can over-work and damage the wood. Luckily, the vast majority of Dutch homes utilize water pumps as their mechanism for underfloor heating.
Installation
It is important to consider that not every wooden floor is suitable for underfloor heating because of how the heat will be dispersed. If there is a floating wood install the heat will be kept between the plank and the concrete, rather than the floor above. As a result, it is advised to glue down the floor, so that the heat passes directly through the plank.
Plank thickness
The thickness of the wooden planks will also determine how efficient your underfloor heating is. The efficiency of the underfloor heating may be reduced if the plank is too thick to let the heat pass through it. As such, thinner planks are recommended when installing underfloor heating with a wooden floor.
Which planks are recommended?
It is now clear that the wooden floor which is most suitable for underfloor heating would be a thin plank which can be glued down, such as a engineered woord or parquet flooring. PVC floors are also suitable for underfloor heating.
Solidfloor Heat
All floors from the Solidfloor Heat collection are wooden floors specially designed for under floor heating; and are a perfect addition to any home. A compact plank meant to be glued, these floors are available in herringbone as well as wide strips, in a wide range of colours. Because the high-quality plywood carrier and top layer are both extremely thin, the heat conduction of these floors is extremely efficient. Thanks to the innovative production processes, this is not at the expense of the floor's quality. In addition to the wood being a naturally manufactured product, floors from the Solidfloor Heat collection are also extremely durable.
With a certified heat resistance of only 0.08, the entire Solidfloor Heat collection meets the highest standards, obtaining maximal benefit from the underfloor heating with minimal energy consumption.