What is the Difference between Laminate and PVC?
When looking for a new floor with a realistic stone or wood look you will notice that different options are available. The most common types are laminate and LVT (Luxury Vinyl Tile PVC). But what's the difference? Read more about this in our blog.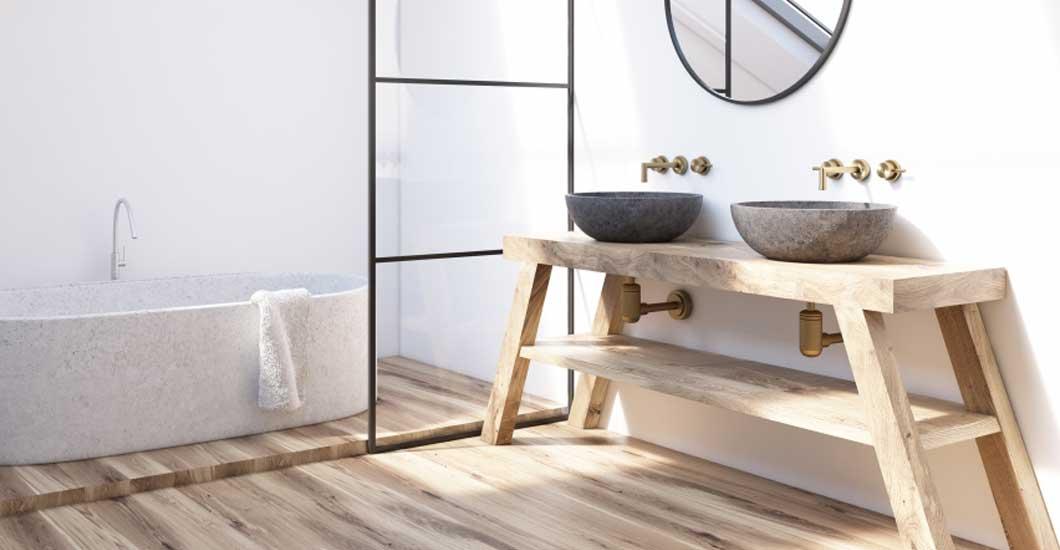 HOW ARE LAMINATE, PVC /LVT DIFFERENT FROM WOOD?
At first glance, the PVC and laminate floors look very similar: both have a wood print on the board, often with a tangible stone or wood like surface. Unlike wooden floors, the bevel is often colored with a uni-color. In addition, because both laminate and PVC/LVT floors are produced with a print, repetition in the floor parts is inevitable. So, if you prefer that every plank is different, then you better opt for a real wooden floor.
PVC OR LVT OR VINYL?
In fact, PVC, LVT, vinyl and synthetic floors are all the same. All these floors are made of plastic layers with a print and a top layer of PVC, sealed with a thin, clear protective top layer. The main advantage of these floors is that they are all waterproof. This makes them all ideal for installation in bathrooms, toilets and kitchens. The thickness of PVC floors varies between 2 mm (self-adhesive variants) to approximately 7-8 mm (click connection).
There is quite a difference in the carrier; it can consist of different materials. Most common is that it is also made of 100% PVC - which basically means that the floor is almost entirely made of plastics. There are also floors with a carrier made of recycled plastics.
Innovations in vinyl and LVT floor carriers;
There is still plenty of experimentation and innovation in this field and is therefore not yet readily available to the general public. PVC floors with an LVT-SPC carrier, on the other hand, are readily available and are becoming increasingly popular. This is because the carrier is made of fine stone gravel. A more natural material than plastics and also more resistant to temperature fluctuations indoors.
LAMINATE FLOORING
Laminate floors are made from several layers of compressed wood-chips on which a photo print is pressed together with a clear protection top layer. In contrast to PVC or vinyl floors, laminate floors are not always water resistant. Laminate floors are only suitable in humid places when the carrier is made from water-resistant HDF. The thickness of laminate floors varies from 6 to 12 mm. Laminate floors are usually laid floating, based on a click-system, whereby PVC floors can be installed both floating and glued.