Tips for finding the perfect floor
Making the right decision when it comes to flooring, is very important to make your house your home. There are different aspects to take in mind while choosing the right floor. Partly because of there is plenty of choice, people will overlook the things that are most important for them. For some it's important to take their pets into account, for others it's important that the floor is low maintenance and will not take too much time to take care of. Therefore we are giving you some tips and tricks that may help you by choosing the right floor for your home.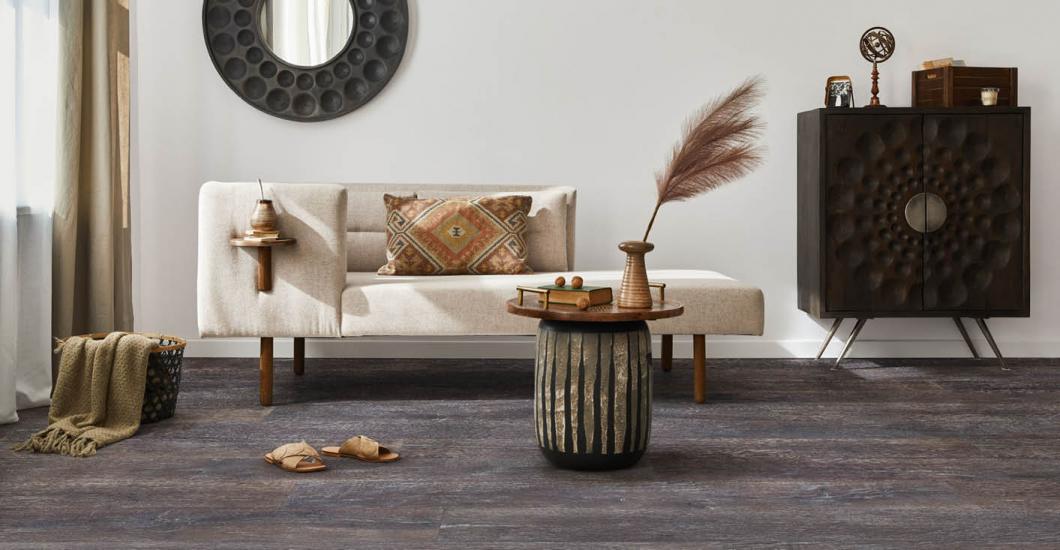 Wood: An unique floor for your interior
Let's start with the wooden flooring, a timeless and unique choice. Each plank is unique, with as a result that the pattern on a wooden plank will never repeat itself and will never be the same. Feel at home with your own Solidfloor wooden floor. The floors are made up of natural and sustainable materials. They do need a little more love than vinyl- and laminate flooring for example. Important things to take in mind when purchasing a wooden floor;
Maintenance: A wooden floor needs a little maintenance once every year and needs a bit more love and attention than vinyl- laminate flooring. Check with yourself if you want to spend time on this.

The condition of the space: When a wooden floor is placed in a humid space, it will dilatate and the planks might expand and warp. This rarely happens in a dry room, with a good air quality.

Pets: Wooden flooring combined with pets can be tricky, please remind yourself to oil your floor each year. In this way you'll keep the scratches and dirt outside your floor.

Budget: This type of flooring is a little more pricey than others. Think about it; am I going to install this flooring in a rental house or at your own property, what is my budget, how long am I going to use it? These things are all important to take in mind. Whatever style you are going for, wooden floors are always a great choice.
Wooden floors can fit in any interiorstyle. Discover for example our Solidfloor Originals Forest for a more traditional look, The Originals Prairie white for a Scandinavian and minimalistic look, or discover the new Solidfloor Heat collection especially developed to combine with underfloor heating.
Vinyl: Stylish, sustainable and practical
Vinyl floors are very popular nowadays, a floor with many advantages and less cons. A number one benefit is that our vinyl floors are available in many colours and patterns. PVC- / vinyl flooring is also water-and scratch resistant and can be combined with underfloor heating as well. Some useful tips by purchasing a PVC- / vinyl floor;
Noise: Vinyl floors have a sound dampening effect, reduces impact noise. Useful to install in the bedrooms and upstairs, or if you have neighbours downstairs.

Water resistant: PVC is water- and scratch resistant, a huge benefit. Vinyl is a great choice if you have any pets or young children. You can install this flooring throughout your whole house, partly duet he water- and scratch resistance. Feel free to install vinyl in your kitchen or bathroom.

Quality: A high-quality PVC- / vinyl flooring lasts for years, it can be used for up to fifteen years with some extra love and attention. For this reason, we offer a fifteen year warranty.

Underfloor heating: Our PVC- / vinyl flooring can be installed in combination with underfloor heating. Another benefit is that the LVT-SPC floors from Solidfloor are made up of stone gravel, a natural material.

Maintenance: Vinyl is a very low maintenance flooring and easy to clean, perfect for people who have a busy life, but want to clean their house themselves. It creates a carefree household.
To keep your floor in the best condition, we recommend our two phase cleaning products. Starting by using the 'Easy Clean Floor Cleaner'. A floor cleaner for lacquered floors, LVT-SPC, PVC and vinyl and laminate flooring. Once you cleaned the floor, you can finish it with the 'Easy Protect Floor Protector', to protect your floor against dirt.
Laminate: Accessible for anyone
Laminate flooring is an often chosen floor for years now, and that is for a reason. The price that you pay for laminate flooring is an accessible price for a look alike wooden floor. With Solidfloor laminate you're assured of a floor that's very easy to maintain and looks indistinguishable from it's natural counterpart. The floor is easy to install yourself and available in a lot of colours. Some things to take in mind when purchasing a laminate floor;
Good value for money: The price that you pay for laminate flooring is relatively low and accessible for anyone.

Maintenance: All Solidfloor laminate floors are very easy to clean and to maintain. With just a regular maintenance product suitably for laminate, the floors are clean in a second. Pretty easy, and very convenient when little incidents happen.

Do it yourself: Our laminate floors are provided with a click-system and is therefore easy to install yourself.

No discoloration: Laminate flooring does rarely dilates and will not change colour because of sunlight.
Do you want to know how a Solidfloor floor would look like in your house? That's easy by adding a picture of your room in our renewed 3D Floorplanner.