PVC flooring: the difference between dryback and click
A PVC floor, or vinyl, has many user benefits and is therefore the perfect choice for a carefree household. Vinyl is 100% waterproof, scratch and wear resistant. Is is also less affected by temperature and humidity differences indoors. Choosing the right floor brings up questions. One of which is whether to choose for a dryback or click installation. Depending on the nature of your household both can be considered. Find out the benefits of both installation types by reading this blog.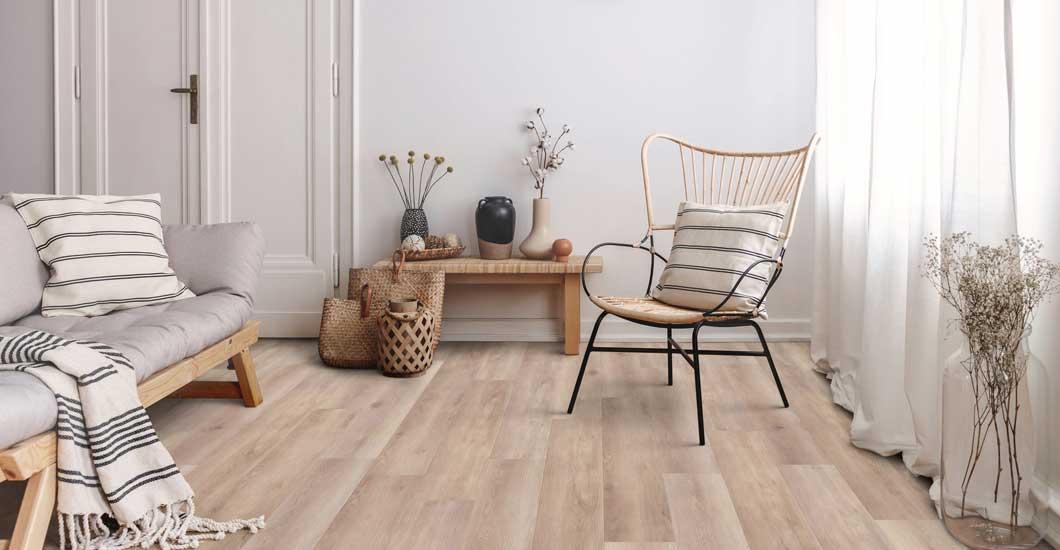 Discover the the advantages of Solidfloor PVC floors here
The difference between click and dryback
The name says it all: a click floor is clicked together using a click connection and can be placed floating on a subfloor suitable for PVC. The dryback floor must be fully glued directly to a leveled subfloor. Both installation methods have advantages and disadvantages. Depending on your living situation and wishes, you can choose which of these two installation methods suits you best.
Click LVT-SPC flooring
A click PVC floor can be installed just like a laminate floor. This means that the floor does not need to be glued down and it can be laid on a subfloor. This is called "floating" installation. Click floors are ideal for spaces that are not perfectly leveled. Please note that the maximum level difference in the subfloor should be a maximum of 3 mm over 2 m depending on the brand. If the difference exceeds the recommended maximum, you will risk breaking the click connections. In that case, you should consider leveling the floor before instalation.
Advantages:
A click pvc floor can be laid floating;
This also means that you can move your click pvc floor with you when you move out;
The click installation makes it easier to install this type of flooring
A click pvc floor can be laid on a floor that has a slight deviation from a level subfloor.
Tips:
Prevent the floor from warping due to shrinking and expanding by using a transition profile every 8 feet;
Use a subfloor that is suitable for pvc click floors. Avoid springy subfloors meant for laminate. These cause breaking click connections;
If you have a flat stick, you can easily measure the level difference of your subfloor. Just lay the stick flat on the floor and measure the space between the subfloor and the stick. Based on the outcome you can easily determine whether the space is suitable for a click pvc floor.
> Check out our click PVC floors
Dryback PVC Floor
As mentioned earlier, a dryback floor can be glued to a leveled subfloor. This is ideal for a smooth result or to get the most out of your underfloor heating. Because of the direct connection to the subfloor, heat conduction is extremely efficient. Dryback floors are therefore ideal for installation in combination with floor heating, also compared to click variants.
All floors from the Solidfloor DRYBACK collection have a 4-sided micro bevel. This bevel is therefore slightly less prominently visible than the bevel of click variants. The 0.55 mm top layer is of the same thickness and quality as the Solidfloor Mansion click collection. To limit the drawing, all DRYBACK items have a thickness of 2.5mm instead of the usual 2mm thickness. This reduces the drawing and increases the floor's stability. In addition, the DRYBACK articles are reinforced with fiberglass to further enhance the floor's dexterity and robustness.
Advantages:
A Dryback PVC floor can be laid in any room. This saves on cutting loss and therefore costs.
Due to the limited thickness of the floor boards, the heat conduction is extremely efficient. Perfect for underfloor heating and cooling.
Tips:
The dryback floorboards are thinner than a click floor. Therefore, make sure that your floor is properly leveled for a smooth result.
As the floorboards are thinner, irregularities often show through; placing dryback floors requires professional knowledge and skills, so it is often advised to hire a specialist.
Dryback floors are often cheaper to purchase, but a bit more expensive in terms of labor to install. So keep this in mind when planning your project.
This is how you keep your PVC floor beautiful for longer, although PVC floors are carefree, it is recommended to treat the floor twice a year with Easy Protect. We recommend Easy Clean for periodic cleaning. A deep and durable cleaner for a long-lasting cleaning of the floor. By treating the floor with Easy Protect, the floor will remain beautiful for longer. For more questions or advice, please contact a Solidfloor dealer. They are always happy to help.
Discover our Solidfloor Dryback floors
Personal advice
Solidfloor's stable and waterproof vinyl floors are made to last. And we believe in it too. That is why we give no less than 15 to 25 years guarantee on our vinyl floors. Curious about the conditions or personal advice? Our points of sale will be pleased to help you.