Is wooden floor in the kitchen right for you?
Wooden floors are regarded as one of the most enticing types of floors in interior design. However, it is also acclaimed among professionals that hardwood floors are somewhat high-maintenance and are a poor choice for wet locations or other intense used places such as kitchens or bathrooms for that matter. Nonetheless, when a wooden floor is correctly maintained, it could be possible for you to have a wooden floor in your kitchen.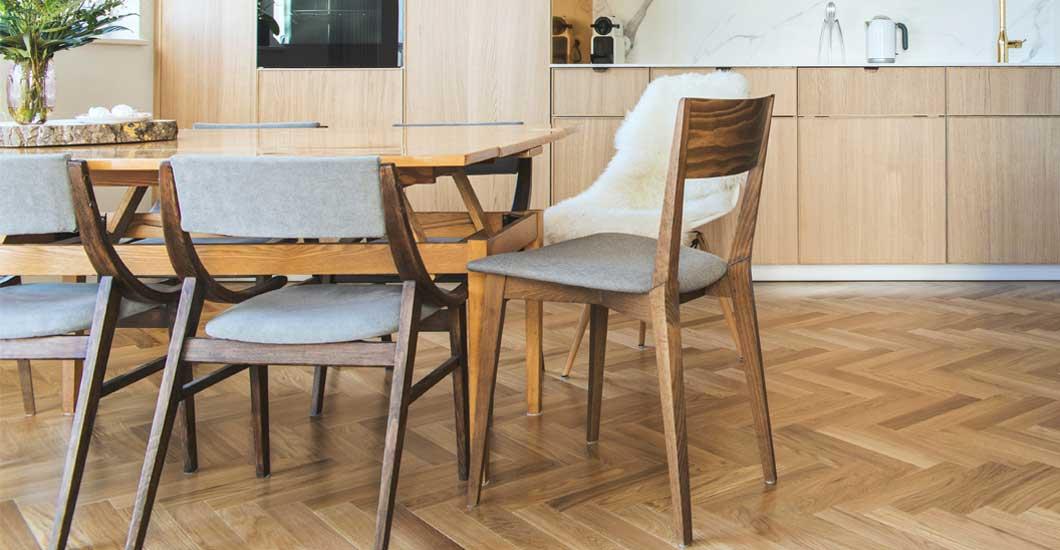 Although some manufactures claim that their wooden floors are water resistant, these never are fully waterproof. Many have disclaimers that attend us that the product shouldn't be placed in wet areas such as kitchens or bathrooms. And yet, there's a gray area when it comes to these particular places as we can classify them as semi-moist or sporadically moist. It may be possible for you to have a wooden floor in your kitchen, but much depends on the nature of your household. When having a wooden floor in the kitchen, please take note of the following:
There are different kinds of finishes of wooden floors. Most common are lacquered and oiled floors. It generally known that lacquered floors can tolerate moist/water a bit better compared to oiled floors. However, these are not waterproof.

When a floor is oiled or lacquered recently, all the product is drained in the wood fibers thoroughly so that other substances don't have the chance to be sucked up. In turn, well nourished floors are less likely to show marks or stains overtime. Whenever the floor looks a bit skimpy, you have maintain the floor again with a high-quality maintenance product. Also, as wood is a product of nature, wooden floors are vulnerable for substances with acidity. So whenever liquids are spilled, it is advised to remove them immediately when spotted to avoid irreversible stains.

From this perspective, a wooden floor in the kitchen isn't that suitable for a busy household or a home designed so that traffic comes directly into the kitchen from a pool deck or garage let's say. A wooden floor adds a lot to the home's ambiance so consideration is regarded as being worthwhile. Take a look at the floors on this website and find out which floor would suit best in your interior. Also, all Solidfloor's representatives stores are happy to help you on this matter and provide made to measure advice.
Looking for a somewhat simpler alternative? Solidfloor also has a new product range of LVT floors with prints that resemble real wooden floors. The baseline of this collection is that all floors are fully waterproof as these are made out of stone gravel. Also, another benefit of this type of raw material is that it is very resistant to humidity and temperature differences indoors. Interested? Check out the collection by clicking on this link.