Flooring First Aid: Stains on your wooden floor
Wood floors have been extremely popular for years, we all love them but sometimes stains appear and we don't know what to do. But don't worry! This happens, after all, a floor is meant to be lived on! That's why we give a first aid guide to help remove these stains as quickly as possible.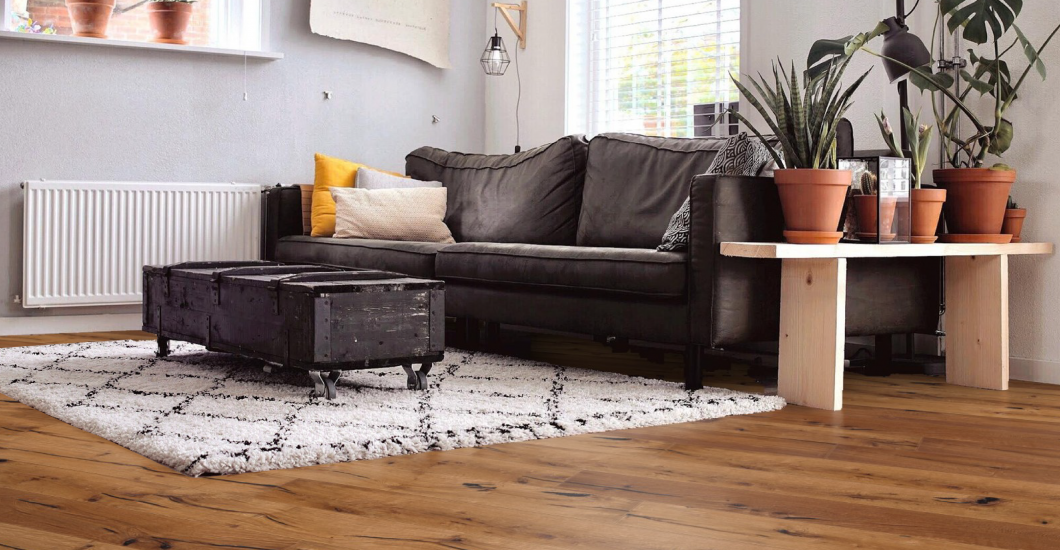 These are our best tips, but of course, they may not work for your floor. Also, note that these tips are only for wood floors that are oiled or varnished.
Test a small area beforehand to be sure whether these tips will work for your floor. Then you can immediately see if you're making the stain worse or bigger. Can't figure it out? Most flooring stores generally know what's best for your situation. So don't hesitate to enlist this help. Check out our specialists here.
General cleaning and care
Varnished floors

Varnished wood floors are generally somewhat more resistant to moisture (and therefore stains) but have the disadvantage of being more easily scratched. To provide extra protection for lacquered floors against stains and dirt, we recommend maintaining the floor with Easy Clean and Easy Protect. This revolutionary maintenance duo namely ensures deep cleaning and provides the floor with a dirt-repellent layer. This allows you to absorb stains quickly without them having the chance to soak into the floor. Both products are fully biodegradable and can be ordered through affiliated Solidfloor sales points. These products are also suitable for laminate, PVC, cast, and tile floors.

Oiled floors

Oiled wood floors can generally also withstand moisture, provided the floor is well maintained. If wood is slightly rough, the wood will absorb moisture immediately, which can cause unsightly stains. In this case, prevention is better than cure, so make sure your oiled floor is well nourished with oil.

Please note that Easy Clean and Easy Protect are not suitable for oiled floors. The advantage of oiled floors is that you could sand them locally and re-treat them with oil, however, this only works for superficial stains.
First aid guide:
Grease spots
Got a grease spot to deal with and don't know how to fix it? Try green soap! Did you know that green soap is very environmentally conscious? And also cheaper to buy than most cleaning products.
To remove the stain, make a lather of green soap and warm water and rub it over a small area of the stain with a soft sponge. Allow to soak for a moment, and remove with a clean, dry cloth. Successful? Then remove the rest of the stain this way as well.
Candle wax
It's so cozy or romantic, but now you have candle wax on your beautiful floor... Fortunately, the solution is easy. Similar to how you would remove candle wax from clothing.
For this, you need an iron that doesn't have water in it. Set the iron to a low setting. Place a soft, clean cloth on the candle wax and set the iron on it. Iron the cloth and check to see if the stain is diminishing. Continue in this manner until the stain is gone.
Wine stains
It flowed liberally, but now it has accidentally flowed onto your floor... Now you're stuck with wine stains. Don't be worried, because these can be easily removed with Soda!
Make warm lukewarm water into soapy water with Soda and treat the stain. Be sure to rub the floor thoroughly and dry it after treatment.
Pets:
Sometimes an accident can happen with acid (such as a puddle or food), which can cause nasty stains. Something that can help with this is hydrogen peroxide. Be very careful with this, because this agent can also affect the color of the wood.
At all times it is advisable to consult a flooring specialist when it comes to large and deep stains. Find a flooring specialist near you through our points of sale. Our points of sale will be happy to help you.
Want to know more? Read our other blogs!